Go Back To Schoolin'... Baby, I'm Not Foolin'!
subtitled: Covert EdgeYouMaCation
Yeeha! ...yet another great KingArthur.com Kids' Club Sunday.

We love all of you, thanks for all the laughs:

Wally (on bike stunts) got great air and even a better crash, film to follow. Thanks for supplying everything, the garage never looked so good... KingArthur.com sound stage at its best! [Full drum set, sound system, Fender Stratocaster electric 6-string, Gibson electric 6-string, a couple acoustic / electric guitars, Ibanez electric bass, trumpet, flute, piccolo, and a digital audio and video set-up.]

Your friends,
(Big) Mike & Family
---
Mike,

No, no, no... thank you! And, did you think the kid's new I was running a covert educational project the whole time? Instead of trying to organize the group at any one time... or at any one place... I tried something a little different -- "what comes natural to me?"

It started out when Danielle asked me if she could read me One Fish, Two Fish, Red Fish, Blue Fish by Dr. Seuss... and, we ended up recording a multimedia spoken word demo. The next morning Christopher become exceptionally excited when I asked him if he'd like to be on the film crew for the Revolutionary War Reenactment. While all this was going on several things were simultaneously happening on the computers. Doug Kennedy (Isle of Q) was emailing me about the music club's interview. Coincidentally, we use some footage of Chico Huff (from the Crosstown Traffic show) in the interview. Chico is working with the music club on some animation. While the computers continued to render away, we went on to the next day.

What appeared to be a family picnic at Mike's house, was really more covert music and multimedia education. The stunt team formed around an improvisational ramp. Children from 10 to 45 year of age took their whack at clearing the ramp. The atmosphere appeared appropriate for a bugle call. When I played Charge! for them, Little Mike ended up getting a lesson on bugling. Meanwhile, the garage band was getting a lesson from Rev. LeRoy Montana on a musical shuffle in the key of E. Before I knew it, Steph and Michelle took over the microphone and were cutting PSA's (public service announcements) for KingArthur.com. Also, what about all the little "break out" sessions I saw? There was instruction on everything from vocals to percussion.

Last but not least, we were able to give the kids copies of Sometimes It Seems on CDROM featuring their performances from past Club meetings.

Geeeze... I use to hate music lessons. Do you think any of the kids will know they've just been learnt?

Sincerely,
KingArthur.com

It started out when Danielle asked me if she could read me One Fish, Two Fish, Red Fish, Blue Fish by Dr. Seuss. She is in kindergarten and just learning to read. So, why not turn it into a multimedia adventure? Together we hooked up some microphones and musical instruments. Next, we recorded her reading while I improvised music.

Click here to hear the MP3 music demo.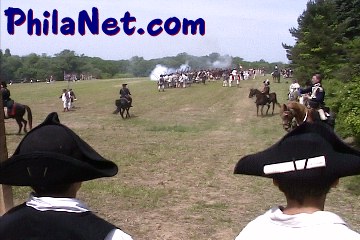 To celebrate its anniversary, a local township (Whitpain Township) held a festival and a battlefield reenactment. Because the area was restricted to motor vehicles, we rode bicycles to the event. Each of us carried a backpack of supplies. Chris brought the tripod and security equipment. I brought the digital video equipment. Once we arrived, there was plenty of good scenes for filming. Not only did we get to watch thousands of people playing the part of Revolutionary War soldiers, but we also got to interact with them. After the main battle reenactment, we talked with several of the actors. They all were meticulous about their parts, knowing every detail of colonial life. Did you know they used three sided bayonets in 1776? (They have been outlawed in all wars since World War I. Three sided wounds have trouble healing. Most victims of a the Revolutionary War bayonet that didn't die on-the-spot suffered from infections... before dying a miserable death.)
Revolutionary War Child Messenger (MPEG)
1776 Battle Reenactment (QuickTime Movie)
Revolutionary War Soldiers (Intel Video Interactive .AVI)
1776 Blue Bell, Whitpain Twp, Montgomery County, PA Battlefield (Real Player Streaming Video) or Download)
dear doug,
yo... the first part of the interview is online and can be found at http://camelot.kingarthur.com/Isle_Of_Q/ or by going through http://camelot.kingarthur.com/grapestreetpub/.
please let me know what ya think?
thanx,
KingArthur.com
---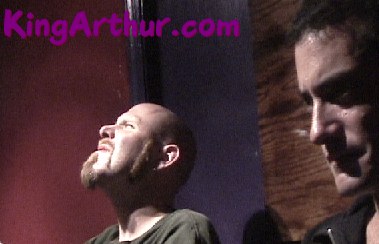 From: Douglas Kennedy
Subject: Re: ISLE OF Q
YO!
Well, I guess my modem is too slow or something but my Real Player keeps stopping and re-buffering while I try to watch the interview. It looks good though. Thanks again for the support.
Doug
---
dear doug,
yes, the interviews are in a higher quality file format... so, they will require a faster internet connection for smooth streaming. you can always use your right mouse button on the .rm file. (then, you can download the file to your computer. the initial download might take a while... but, it will play smoother... and, you'll be able to watch it again and again.)
part 2 of the interview is also available now! it features a cameo of Chico Huff. (see below). for those people with real slow connections, we've put a couple lil' clips in there, too.
if you'd like to proceed with some other fun, just say the word!
sincerely,
KingArthur.com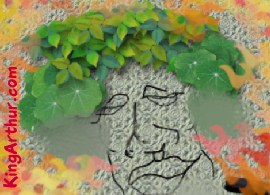 While we are working on a website for Chico, Chico is working with the music club on some animation. It seems everyone I meet says, "Chico is the best bass player...." In fact, when his name was mentioned during the Isle Of Q interview, Beau (the bassist) said, "I bow down to Chico Huff." My hat's off to Beau for being such a great bass player and such a humble being.

So, I was surprised to learn that Chico also works with Bryce graphics. He sent us some of his earlier works for us to render into animation and use in the upcoming video "Kashmir Live From the Grape St. Pub." Here is a little bit of what is going on:

chico,

like yo, mahn! i'm diggin' the vibe at The Chico Homepage.

it's nice to see a guy like you... thankin' his dad... and, not gettin' toooo big for his britches... hehehe.

so... i'd like to offer you a helping hand... all that we ask is that you "give something back."

if you would like, our team will help you create/move/or copy your site to a location on our servers. and, then we can try to add some mp3 and video files from the recent Crosstown Traffic show, etc.

hmmm... i think i've come up with a little plan. how about we take Kasmir... grab a couple camera angles... and put together a music video?

we could then make a webpage that linked to our friend, sidd's, article on kashmir -- http://membrane.com/opsec/kargil/.

also, i see you have some sweet Bryce work... maybe you can send me an appropriate .br4 file... ya know... one that you think fits in with the song and webpage? and, if you email it to me as an attachment... i can render into animation here... and include it in the music video.

seems to me that you'd be meeting the "give something back" request at least 3 ways:
your live performance
assistance in marketing an important issue -- violence in Kashmir
and, your animation skills
so, instead of it costing 10's of thousands of dollars, we could just do it for fun and free?

are ya up for such a gig?

if ya have an interest, just say the word?

sincerely,
KingArthur.com
---
Sounds totally cool!
Glad to do what I can for the Kashmir page. I included some Bryce files. They're not animated, just images and stuff. I'd be curious to see what you can do with them... and when I have time, I'll try and do something more happening. They're older projects, pretty basic. It'll all be a moot point if you don't have Mac, though. :-)
I'll be on the road, but I'll have my iBook with me. So, I can probably do a newer Bryce and send it to you in the next week or so.
Its all good!
Talk to yah, and thanks!
Chico
---
chico,
Yipeeee! we've got the Bryce files open. we had to:
download stuffit from aladdin systems
unstuff compressed files
add the extension *.br4 to the unstuffed files
open in bryce 4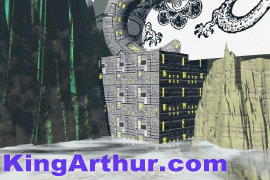 i'm rendering 30 seconds of "dragons"... animated for the viewer to fly through a tail, i think?
the video is rendering at 30 frames per second and a picture size of 720 x 480. (it looks like it takes about 4 minutes for each frame to render on this machine. so, i'd guess each 15-30 seconds of animation will take a computer about 1 week to render. we've got about 45 seconds, so far.)
sincerely,
KingArthur.com
---
Kasmir Led Zepplin Coversong Live from the Grape St. Pub (MP3)
Isle Of Q Talks About Chico (Streaming Real Player) or Download

Sunday afternoon is a nice time for a little backyard picnic. In fact, the children thought it was perfect time to do some in-line skating, scooter and bicycle tricks.

Wally (though he appears to be an adult) decided he would do as the kid's are doing. He mounted the bike and climbed to the highest elevation before beginning his decent toward the ramp. Wow! Did he ever catch some great air... and, even better dirt... when he crashed... film to follow.

When I saw those bikes flying through the air, it seemed appropriate to play Charge! But, when I did, Little Mike said, "They play that at baseball games." I said, "Sure! But, did you know bugle calls really come from the military. There is a bugle call for just about everything."

Bugle calls are usually categorized into three types -- formation calls, service calls and warning calls. Here are a few bugle calls:

Mess Call (MP3) means its time to eat.
First Call (MP3) is a warning to get perpared.
Assembly (MP3) is the signal to come together.
Taps (MP3) signals "lights out" at the end of the day and is also used at funeral services.
Charge (MP3)

The temperature was just right that day for a garage band. Of course, that is what we did. There was a drum set, complete PA (public announcement) system, Fender Strat & Gibson electric guitars, a couple acoustic / electric guitars, Ibanez electric bass, trumpet, flute, piccolo, as well as, a digital audio and video set-up.

Everyone picked up an instrument and followed the Rev. LeRoy Montana's lead:

GORILLA
Spread your legs, bend your knees
Think about the monkeys and the chimpanzees
Gonna tell you 'bout a dance I know is gonna thrill ya
C'mon everybody, do the gorilla, do the gorilla, do the gorilla
Uh uh uh

Jump off the ground both feet in the air
Jump over here, jump over there
Jump like if you stop jumping they're gonna kill ya
C'mon everybody, do the gorilla, do the gorilla, do the gorilla
Uh uh uh

Make your hands into fists swing em from side to side
Do the gorilla take yourself for a ride
You aint tried nothin until ya
C'mon everybody, do the gorilla, do the gorilla, do the gorilla
Uh uh uh

Open your mouth throw out your chest
Do whatcha like to do the best
When you're hip to the ape jive it'll fill ya
C'mon everybody, do the gorilla, do the gorilla, do the gorilla
Uh uh uh

Stick out your tail throw up your arms and your hands
Do the gorilla that's the name of the dance
Do it in chocolate, do it in vanilla
C'mon everybody, do the gorilla, do the gorilla, do the gorilla
Uh uh uh

When I see you walkin down the street
Gonna do the gorilla when we meet
Do the gorilla, it's good for your soul
Do the gorilla you'll never grow old
Whoaaaaaa
Do the gorilla, do the gorilla, do the gorilla
---