with
The PyroTechno Houseband
LIVE !
---
This page brought to you by:

Have you ever wanted to practice guitar? If you love music, consider making some of your own! Sign online today and find the best music instrument lessons in your area. No matter what music instrument you want to learn, there are lessons near you!
---
Click here to test an .ogg file on your computer.
Click here for more information on the Ogg Vorbis file format.
The Ogg Vorbis Musical Abysssss

Side 1: Oggthrob

Ogg Vorbis Suite

Oggmented
Vorbis Abyss
1, 2, Free 4 All

Figure It Out featuring Wally on lead guitar
Far & Tethered featuring Wally on lead guitar

Side 2: Vorbisence
About This Album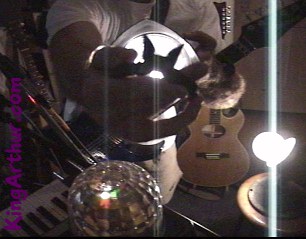 Dear Fellow Music Pioneers,

This album is dedicated to the programmers who have given us Ogg Vorbis. They are true music pioneers, as are you! Yes, you are listening to music based on the notion of experimenting with the freedom that the future has to offer. Doesn't that make you a music pioneer?

The extemporaneous music album was written, recorded and produced with the intent of distributing it exclusively as Ogg Vorbis formatted files... perhaps making it... the first music album of its kind? That is to say -- it is a FREE streaming music album, produced using a FREE audio format (Ogg Vorbis), and distributed using FREE software (Linux & Apache). But, most important of all... it is an album about the kingdom of FREEdom... where music is the universal language.

Live digital engineering was combined with a wide variety of instruments, including: Fender Stratocaster electric guitar, Roland GR-1 Guitar Synthesizer, Yamaha & Ensonic keyboards, Ibanez electric 6-string with tremolo, flute, Peavey bass guitar, Digitech foot pedal and voices.
---
Winamp Playlist: click here to download the Ogg Vorbis Abyss Playlist

Playlist statistics:
14 tracks in playlist, average track length: 6:43
Playlist length: 1 hour 34 minutes 8 seconds

Playlist files:

1. The Ogg Vorbis Suite - [15:07]
2. Figure It Out - [5:11]
3. That's What You Get -- MUSIC! - [6:24]
4. Spinning Round - [8:00]
5. Far & Tethered - [7:23]
6. Painless - [5:39]
7. with the Narley Marely Reggaefestival - What Are We Living For? - [6:51]
8. Collision Course - [6:41]
9. Open To Suggestions - [7:16]
10. My First Step - [4:39]
11. The Ocean Notion - [6:04]
12. The Sound Way - [7:57]
13. Until Beautiful - [3:32]
14. I Like Sound - [3:24]

Stay Tuned In
... more to come.