Vessel Castle
Title: Sea Of Tranquility (Vessel Castle)
Lyrics & Music by: KingArthur.com
additional bass by: Capn'

Streaming Music Video or download

This is a song about a meeting with Aiax. I had the pleasure of boarding his ship. He had helped command the cargo ship across the Atlantic Ocean and was fortunate enough to dock near New York City. It was his first visit to America.. After hanging-out in Manhattan, he took us back aboard his Russian manned boat... er, a... excuse me... it's not a boat. (Click here to see a picture of it.)

We had to wrestle with our soul... try to make it whole... upon his vessel.
---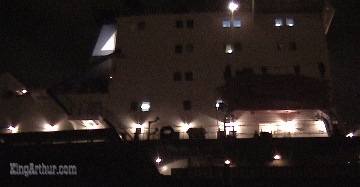 lyrics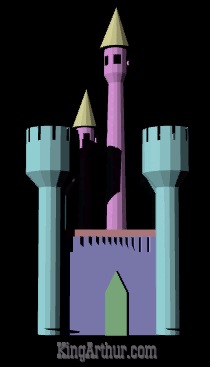 We climbed aboard his vessel,
As the light shone down,
I saw his smile,
Turn to a frown.
As we tried to make his vessel a castle,
Hoping to set his soul free,
That's what's ailing me.
Trying to give him some hope,
Some tranquility,
Cause I know the land,
Where he will go,
They don't know,
How to be free.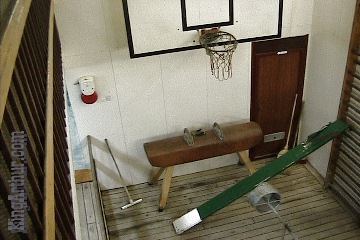 It's not a boat,
Don't let the word,
Leave your throat,
It's bigger than that,
It's not a toy,
Let's hear you say,
"Toy Boat" five times fast.
Toy Boat, Toy Boat, Toy Boat, Toy Boat, Toy Boat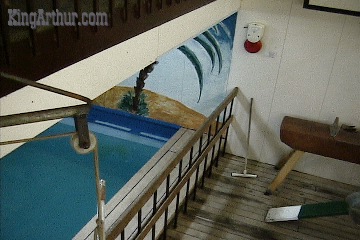 It's much bigger than that,
I can tell ya,
Cause I sat,
Right there,
And, it took up,
Too much air.
So, on this vessel,
We had to wrestle,
The notion,
We could make a motion,
Across the vast, vast ocean.
Had to make clear,
We were near peace,
Never let it cease.
On the castle vessel,
We had to wrestle,
The notion,
We could make the motion,
Across the ocean.
For peace and harmony,
Plus some tranquility,
For both you...
You and me.
Yeah, I think we can make it,
A house, a home, some place for the heart,
Got to put up with the thought of the strife,
If I'm ever to see my kids and wife!
Gotta get back home again,
Gotta get back home,
If we're ever to win.
I guess,
I'll just have to wait for success...
Then, I can quit.
© 2001 KingArthur.Com
These graphics, images, text copy, sights or sounds may not be used without our expressed written consent.